With Kisi, users can simply unlock doors from their mobiles. No more fumbling with key cards or fobs! On the management end, admins will be able to have a clear view of who or which groups of people have access to every single Kisi-connected door in their office -- along with any time or day restrictions.
We've not only made it easier to access offices, but also made it much more secure when doing so. Simply share, revoke or modify access rights of a particular person or group of people from our cloud management dashboard.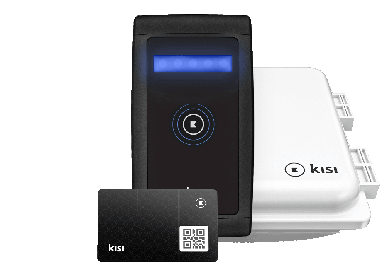 Regain Full Control the Easy Way
Discover what makes Kisi the most advanced cloud access control solution.
Now you might be wondering if installing Kisi is as easy as using it. Here's how simple it is to get Kisi:
1) A Kisi installer will do a site-visit at your office upon request
2) Our Kisi security specialist will work with you to construct a custom access control system plan
3) When the Kisi products have arrived, a dedicated Kisi installer will reach out to you to arrange for installation
Wasn't that simple?
After installation, you'll be able to create your Kisi account, and begin issuing 'keys' to everyone!
Mobile access the Kisi way
Join the best access control system management from the comfort of your phone

Traditional security systems have a number of limitations; for instance, the use of physical keys is both time-consuming and expensive. This is why the modern access control technology is exploiting mobile technology and cloud-based solutions to develop revolutionary wireless access control systems, promoting reliability, scalability, and easy maintenance.
With thousands of multinational corporations, Atlanta ranks among the top metropolitan cities in the US, widely recognised for trade and manufacturing. Subsequently, as the number of shared office spaces continues to surge, more and more corporate companies, both small and large, are seeking wireless mobile access controls to improve their security.
Such systems are especially relevant in the hospitality sector, where smartphones and check-in apps have successfully replaced access cards and traditional check-in systems.
To be connected with the best local installer, contact us at sales@getkisi.com.